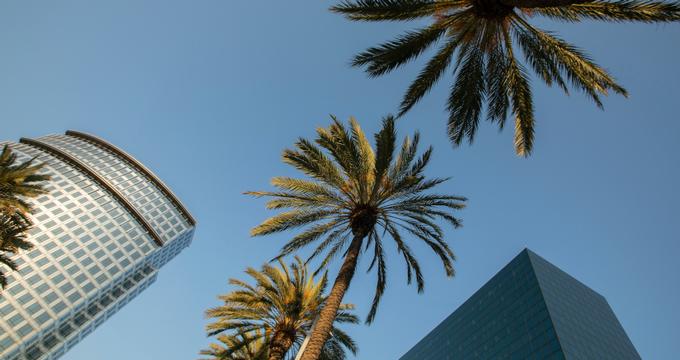 © Courtesy of Segerstrom Center for the Arts
Costa Mesa, California, is located between Los Angeles and San Diego, just a mile from the beach. Costa Mesa started modestly as an agricultural community when it was incorporated in 1953. It grew into a modern, vibrant city with its famous Segerstrom Center for the Arts, shopping, 30 well-maintained parks, a golf course and three libraries. Costa Mesa is a short drive from some of the most famous Californian beach towns such as Laguna Beach, Huntington Beach and Newport Beach, as well as a quick trip to Disneyland Resort. Here are the best things to do in Costa Mesa, California.

1.Segerstrom Center for the Arts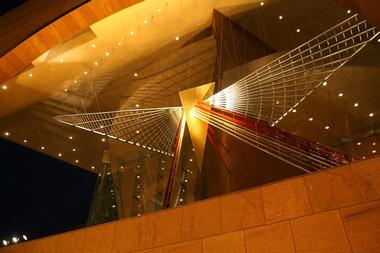 © Segerstrom Center for the Arts

Established in 1986 as the Orange County Performing Arts Center, the renamed Segerstrom Center for the Arts is a modern performing arts center and one of the top Costa Mesa attractions. Designed by world-renowned architect Cesar Pelli, the center is the artistic home to three resident companies, namely the Philharmonic Society of Orange County, the Pacific Symphony, and the Pacific Chorale.
Several performance venues comprise the center, including the 3,000-seat Segerstrom Hall, the 2,000-person Renée and Henry Segerstrom Concert Hall, the 375-seat multi-functional Samueli Theater, the 250-seat Judy Morr Theater, and the 46,000-square-foot (4,300 square-meter) Arts Plaza. The Segerstrom Center for the Arts presents some educational programs and classes in the arts, such as master and Broadway classes, summer camps, and the ABT William J. Gillespie Dance School.
600 Town Center Dr, Costa Mesa, CA 92626, Phone: 714-556-2787
2.California Scenario (Noguchi Garden)
© Courtesy of Amnat – Fotolia.com
Isamu Noguchi's California Scenario (also known as Noguchi Garden) is an award-winning sculpture garden and oasis in Costa Mesa. Commissioned by Henry Segerstrom in 1979, the garden covers 1.6 acres and represents various geographical characteristics in California through ingenious designs that incorporate indigenous plants and materials.
The Garden features six main sections that make up a typical "California Scenario," namely Water Source, Water Use, Desert Land, Land Use, and Energy Fountain and a dramatic centerpiece known as The Spirit of the Lima Bean. California Scenario or Noguchi Garden is open to the public on a daily basis and is free of charge.
611 Anton Blvd., Costa Mesa, 92626
3.South Coast Repertory Theater

© South Coast Repertory Theater

Established in 1964 by David Emmes and Martin Benson, the South Coast Repertory (SCR) is a resident professional theater. It is widely regarded as one of America's foremost producers of new plays. The SCR features an extensive new play development program that boasts a range of workshops, commissions, readings, and residencies, from which up to five world premieres are produced each season.
The theater season runs from September to June each year and includes works drawn from classic and modern theater repertoires that are presented on a variety of stages. The SCR also offers a selection of educational and outreach programs and has been the recipient of the Regional Theatre Tony Award for Distinguished Achievement for new play development.
655 Town Center Drive, Costa Mesa, CA 92626, Phone: 714-708-5555
4.Fairview Park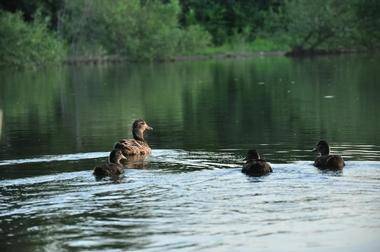 © Courtesy of buharina – Fotolia.com
Fairview Park is a 208-acre public park that features open fields, rolling hills, a tranquil forested sanctuary, and a beautiful beach. A network of trails crisscross the park, and they are perfect for walking, hiking, running, biking and horseback riding while shady picnic areas with tables and secluded coves are available for rest and relaxation.
The park offers large grassy areas for kite and model airplane flying, as well as free model train rides on the third weekend of each month. Fairview Park plays hosts to several community events throughout the year, including the annual Fish Fry, which involves various kinds of entertainment, carnival rides, and prize drawings to raise money for local community organizations. If you are wondering what to do in Costa Mesa with kids, this is a great place to visit.
2525 Placentia Avenue, Costa Mesa, 92627
5.TeWinkle Park, Costa Mesa, California
© Courtesy of AjF – Fotolia.com
Named after local businessman and first mayor of Costa Mesa, Charles TeWinkle, TeWinkle Park is a 49-acre space that offers residents and visitors to Costa Mesa a beautiful urban area in which to relax and enjoy the outdoors. The park features an array of modern amenities, including barbecue areas, picnic tables, restrooms, and shady shelters, as well as several sports and utility fields.
Enjoy a game of baseball or softball on the full sized fields, or play a match on one of the twelve tennis courts. A lovely lake with a waterfall sets the scene for the perfect picnic while a special children's play area called Angels Playground is ideal for the little ones.
970 Arlington Avenue, Costa Mesa, 92626
6.Diego Sepulveda Adobe

© Courtesy of travelcostamesa.com
Resting on a bluff overlooking the Santa Ana River bed in Estancia Park, the Diego Sepúlveda Adobe, also known as the Costa Mesa Estancia or the Santa Ana Estancia, is the second oldest structure in Orange County and stands as a memorial to the early settlers of the area. Originally built between 1817 and 1823 to house the traveling herdsmen who tended horses and cattle from Mission San Juan Capistrano to Alta in the south, the adobe and surrounding land was later purchased and restored by the Segerstrom family in 1940. Today, it stands as a local history museum.
Operated by the Costa Mesa Historical Society, the museum represents four distinct periods in Orange County history, namely Indian, Mission, Spanish, and Victorian.
1900 Adams Avenue, Costa Mesa, CA, 92626, Phone: 714-754-5300
7.South Coast Plaza
© South Coast Plaza

South Coast Plaza is an upscale shopping center that offers patrons a luxurious shopping experience. Home to an array of deluxe boutiques, brand stores, award-winning restaurants, personal shopping services, and modern amenities, South Coast Plaza is world-renowned for its unparalleled retail collection. Located within walking distance of Costa Mesa's beautiful beaches and sprawling resorts, the center features luxury brands such as Chanel, Dior, Tiffany & Co, Hermés, and Massimo, as well as major department stores like Sears, Nordstrom, Saks Fifth Avenue, Macy's, and Bloomingdales.
The Plaza caters to every taste with a variety of dining options ranging from quick bites and specialty foods to casual, family-friendly dining and fine dining, as well as a selection of cafés, bars, and lounges. South Coast Plaza's Concierge provides an array of services to make your shopping and dining experience extra special, including personal shopper services, foreign language assistance, currency exchange, gift certificates, and wheelchairs.
3333 Bristol Street, Costa Mesa, CA, 92626, Phone: 1-800-782-8888
8.Old Vine Kitchen and Bar
© Old Vine Kitchen and Bar

Old Vine Kitchen and Bar is an award-winning Costa Mesa restaurant that originally opened in 2007, helmed by executive chef Mark McDonald and sommelier Kate Perry. The restaurant was expanded in 2019 to include a lovely wine bar space, featuring custom-designed metalwork by Mark Gerardi and more than 80 paintings by abstract artist Paul Kole. The restaurant serves up breakfast, lunch, dinner, and late-night meals throughout the week, including hearty pasta entrees like beef tenderloin stroganoff, flash-fried gnocchi, and handmade pappardelle with English peas and pork sausage ragu. Land and sea entrees take on an international flair, ranging from Indonesian curry shrimp to pulled duck leg with smoked poblano and pepita emulsion and queso fresco. The restaurant's full bar serves up fine wines and craft cocktails throughout the evening, offering lounge seating and a lovely enclosed outdoor patio space.
2937 Bristol St A103, Costa Mesa, CA 92626, Phone: 714-545-1411
9.Avila's El Ranchito Mexican Restaurant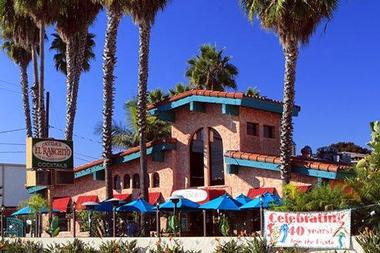 © Avila's El Ranchito Mexican Restaurant

Established in 1977 by Maria Elena, Avila's El Ranchito Mexican Restaurant is a family-friendly restaurant that serves an array of authentic and traditional Mexican food. Located in a historic Laguna Landmark building on the ocean side of town, Avila's boasts a warm and welcoming ambiance and beautiful sea and sunset views. The menu features delicious homemade Mexican fare including starters of mahi-mahi ceviche, nachos, and quesadillas, a variety of soft tacos, platillos, handmade tortillas, fajitas, and burritos for mains. If you are looking for romantic date ideas, this is a great place to try.
You will also find exclusive Ranchito specials such as Botana Carnitas (pork marinated in lemon and garlic) and Asada Encebollado (tender strips of rib eye steak served on a skillet with grilled onions and accented with Mama Avila's own Chile Negro). A separate children's menu offers smaller portions of favorites such as chicken fingers and burgers, and a catering and banquet menu is available for special occasions and other events.
2101 Placentia Avenue, Costa Mesa, CA, Phone: 949-642-1142
10.ST Patisserie Chocolat
© ST Patisserie Chocolat

ST Pâtisserie Chocolat is a pastry and confectionery shop owned by French Master chef Stéphane Tréand MOF. Located next door to his culinary school, The Pastry School, ST Pâtisserie Chocolat brings a touch of Parisian pastry glamor to Costa Mesa. Winner of the title of "Un des Meilleurs Ouvriers de France" (MOF), a craftsmen competition held every four years in France, Stephane is dedicated to sharing his passion and love for the art of pastry and confectionary by using his superior knowledge and innovative techniques.
Choose from an array of delectable handmade chocolate and sweet treats from ST Pâtisserie Chocolat, ranging from bonbons, éclairs, tarts, and verrines to mille-feuilles, macarons, petit gâteaux, and cannelés.
The SoCo Collection, Unit H, 3321 Hyland Avenue, Costa Mesa, CA, 92626, Phone: 714-825-0180
11.The LAB Anti-Mall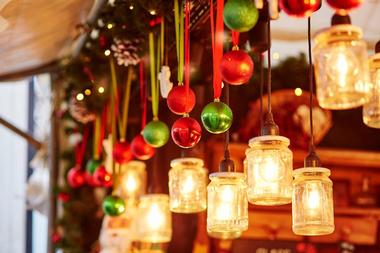 © Courtesy of Ekaterina Pokrovsky – Fotolia.com
The LAB (Little American Business) is a relaxed, indoor-outdoor gathering space with shops and restaurants geared toward the young at heart. Located in a restored night vision goggle factory, The LAB is home to an array of non-conformist stores and artisanal restaurants that would not typically be found in regular shopping malls, such as Honey & Butter, The Gypsy Den, Crew, and Crème Tangerine.
The LAB also hosts a number of events throughout the year, including the Full Moon Night Market, 'BLOOM' – a SoBECA Festival, LAB Earth Day Night Market and Happy Lunar New Year.
2930 Bristol Street, Costa Mesa, CA 92626, Phone: 714-966-6660
12.Taco Maria, Costa Mesa, California
© Taco Maria

Taco Maria is a family-owned and run Mexican restaurant that has won numerous awards for "Best Restaurant" over the past decade. Using locally sourced seasonal ingredients and drawing traditions and flavors from Mexico, Taco María's Michelin-starred chef Carlos Salgado fuses these components into delicious dishes with a Southern Californian twist, creating "Chicano Cuisine," a mezcla of Mexican and American cultures.
A variety of menus are available from prix fixe to a la carte and brunch, all of which feature signature homemade Mexican fare such as carnitas, esquidas, enmolada, and tacos.
3313 Hyland Avenue, STE, C21, Costa Mesa, CA, 92626, Phone: 714-538-8444
13.Seabirds Kitchen, Costa Mesa, CA
© Seabirds Kitchen
With humble beginnings as a food truck in 2010, Seabirds Kitchen has since become one of Orange County's best vegan restaurants by pushing the boundaries of vegan cuisine. Serving purely organic, plant-based food sourced from local farms and producers and presented in an array of unique flavor combinations and creative techniques, Seabirds Kitchen offers diners an outstanding organic dining experience.
Expect small plates of pumpkin bisque, warm kale salad, and artichoke drumsticks, while mains feature chorizo tamales, butternut enchiladas, and a signature brown rice and black beans bowl with ancho salsa, fresh cilantro, and tortilla strips. Seabirds Kitchen is open for lunch and early dinner Monday through Sunday and offers a unique brunch menu over the weekend.
2930 Bristol Street, Costa Mesa, CA 92626, Phone: 714-549-2584
14.The CAMP
© The CAMP
Located in Costa Mesa's SoBeCa District, The CAMP is a nontraditional retail community and "green" gathering spot that boasts a casual and vibrant ambiance. The CAMP features a variety of health conscious, fitness-related, and organic and wellness stores, all with a focus on helping people stay active and live a healthy lifestyle.
Shoppers will also find an array of gourmet vegetarian, vegan, and organic culinary delights, ranging from freshly brewed coffee and tea from Milk+Honey to fresh, locally sourced Southern Italian-style organic cuisine complete with wine pairings at the Old Vine Café. For old vegetarian favorites with a modern twist in a warm and welcoming atmosphere, head to Native Foods and join locals for the monthly SoBECA ARTwalk, film screenings, and other special events.
2937 Bristol Street, Costa Mesa, CA 92626, Phone: 714-966-6661